Assurance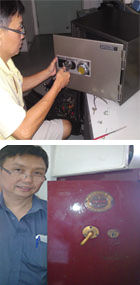 - Trained in both America & Japan, with techniques & skills to help you with your needs. Been in this line for over 30 years, well experienced in the art of key lock manipulation.
- With a background from the carpentry and metal works industry as well, be rest assured you can trust us when it comes to lock installation. Your lock will work perfectly & smoothly. Securities issue will be solved.
- A well experienced Safe cracker, you need not look further.